Autoimmune Reactions and the Immune System


PICOWO series | Part 10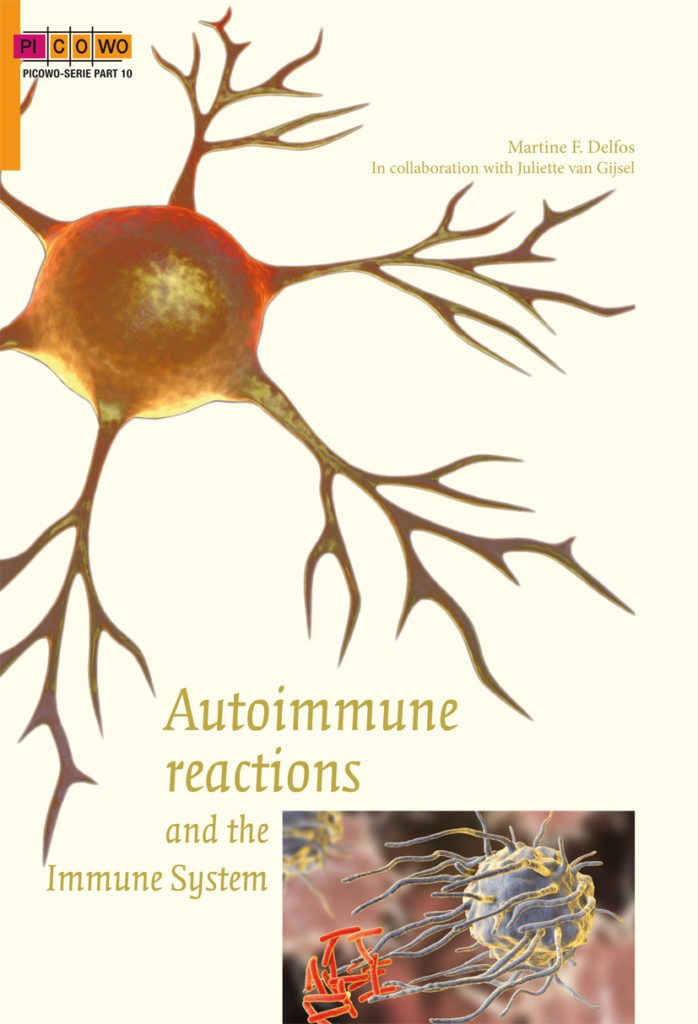 From the foreword of Prof. Dr. Dick Swaab:
Martine Delfos is one of those exceptional people who, at a very early stage in her career, successfully started to build bridges between the fields of psychology, medicine and neuroscience. For a long time she was one of the few psychologists truly interested in neurobiology. She is a scientist by trade but corroborates her scientific insights as a clinical psychologist and a therapist. As she says: "A scientist needs to be confronted with his mistakes through real life". Martine contacts me a couple of times a year with in-depth biomedical questions. Her questions always concern a very different topic, are never easy to answer, and are always original and force me to look at a problem in a new way. The latest fruit of her labours is the present volume 10 of her PICOWO-series on 'Autoimmune Reactions and the Immune System'.
Autoimmune Reactions and the Immune system presents an overview of the immune system. For the first time a schema with all the elements of the immune system was possible due to all the evidence-based material meticulously gathered in centuries of medical science. This schema has been elaborated with a new perspective on the immune system, encompassing not only the fight against viruses, bacteria, parasites and fungi, but as the system organizing the processing of the cells of the body. A perspective shifting from fighting to protection and ultimately to exchange between the human body and its surroundings. To enable this broad perspective a fourth pathway of complement activation was developed, the melatonin-pathway.
The extra material for this book includes the TAD, the Table of Autoimmune Diseases, and an erratum for Schema 3 on page 48. Here you can download the material from the SWP Publisher website.


Martine Delfos
Dr. Martine France Delfos studied clinical research psychology in the late sixties, and French language and literature in the early nineties, both at the University of Utrecht. In 1999 she completed her PhD at the university on a double subject: psychological and literary research on bereavement in French writers. She is trained as a researcher and since 1975 she has also worked in practice as a therapist. In 1997 she founded the PICOWO: Institute of Psychological Consultation, Education and Research in order to form a research group where she develops biopsychological theories and models. The models she develops are in direct relation to both the social and scientific reality. She carries out her research projects in various fields, both in the Netherlands and internationally.
Between 2008 and 2012 she was appointed as a Professor at the Edith Stein University /Twente School of Education in The Netherlands. Since 2010 she has been a Visiting Professor at the International University of Sarajevo in Bosnia-Herzegovina and from 2011 a Visiting Professor at the Universidad Central del Ecuador, Quito, Ecuador.
She has written several textbooks and specialist books, including a quadrilogy of textbooks in the field of developmental psychology and psychopathology.
Juliette van Gijsel
Juliette van Gijsel studied medicine and completed her GP training in 2016. During her studies, immunology and especially autoimmune medicine piqued her interest and she followed a number of elective courses in this area. She worked on research projects, resulting in a publication in The Lancet, about neonates with suspected early-onset sepsis. Since the start of her studies she was also involved in the scientific research group of Martine Delfos, who researched various fields, including (auto)immunology.
Fiemke Griffioen-Both
Fiemke Griffioen-Both, PhD, is founder and CEO of Lyla Coach BV and has a background in Artificial Intelligence. After her studies at the VU University, she received her PhD in the area of agent systems for eHealth / depression and workload. After a few years of working as a knowledge engineer, she was back in research at Utrecht University working on the SleepCare-project since 2013. The project was so successful, she started her own company together with her colleague based on their research, Lyla Coach BV.
Authors and the Book
With respect to this book: Martine Delfos is the main author. Juliette van Gijsel was the main author of the TAD, the Table of Autoimmune Diseases. Fiemke Griffioen-Both was co-author in Chapter 7 concerning the level of ghrelin and eating disorders.
ISBN 9789088500473

E-ISBN 9789088508776
Author: Martine F. Delfos & Juliette van Gijsel 
Publisher: SWP, Amsterdam
1st edition 2018